The 1 Hour Balloon & Magic party
this show is suited for 4 yrs and up.
This fun packed show starts with amazing balloon sculpturing that is very entertaining as lots of the children help create the balloons with hilarious consequences! Then the comedy magic starts with plenty of audience participation so everybody is entertained! During the show the birthday child always gets the chance to perform their very own fabulous birthday trick and receive an amazing balloon creation (see gallery).
The 2 hour Magic, Balloon and Game Show –
magic, balloons, games & party dances!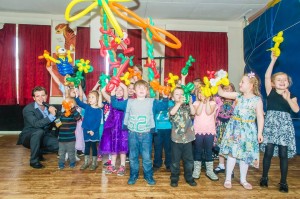 This show is spilt into two halves. The first half includes party dances which are performed by Johnny, which the children copy and enjoy as they go along with him. This half also includes party games where the winners receive one of our amazing balloon models. This section lasts for 45 min's.
Now for your part… a 30 min break for you to give the children there party food and drinks. (or just a general break)
The remaining 45 min's is a fun-packed comedy magic show. The birthday child becomes the star of the show as the magicians 'head' assistant taking part in the main magical illusion of the show! The birthday child then receives a fantastic balloon model for helping the magician with the show. At the end of the party all the children receive a balloon model so everyone leaves the party with big smiles on their faces- raving about what a brilliant time they had at your party!
Please contact us for more information or ring us on 01603492161 or mobile 07766835158